The Australasian Motor Neurone Disease (MND) Symposium hosted by FightMND at Melbourne's Convention and Exhibition Centre in March was an inspiring gathering of world-leading researchers, carers and those fighting MND, held to galvanise collaborations and inspire young researchers in their fight against MND.
As we know, MND takes people and the inaugural symposium, a sold-out 3-day event, brought together over 400 delegates from labs and clinics around the world to share and discuss their latest research in the fight against the beast that is MND.
Federal Health Minister, Hon. Greg Hunt MP opened the symposium with his stern commitment to support MND research with backing from the growing Medical Research Future Fund.
Recognising the efforts of FightMND Founder Dr. Ian Davis and Vice Chairman Neale Daniher AM – "two men who are unassuming and utterly focussed, fighting for a better world with immense courage" – Mr Hunt spoke about building a national roadmap to fight MND.
"We are blessed to have such extraordinary researchers, activists and people involved in the fight against MND; people who help shape the world to come in terms of beating, treating and ultimately curing MND," Mr Hunt said.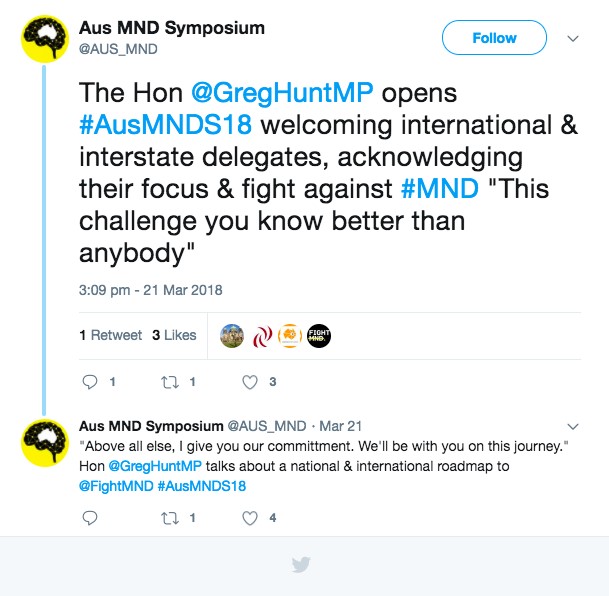 Over three days, biomedical researchers, clinicians and allied health professionals shared their latest research findings and experiences of caring for people with MND.
Invited keynote speakers quickly set the tone for the conference: we need to refocus our efforts to fight MND by reflecting on the great work of the MND research community so far, what we have learnt, and the advances made, to recognise what can be done better in the future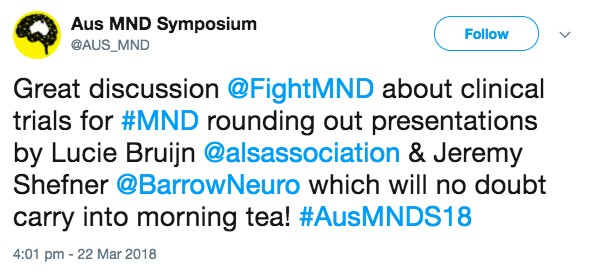 In this way, Professor Ammar Al-Chalabi from King's College London, spoke about what causes MND. He challenged researchers to reconsider their definitions of familial and sporadic MND/ALS, making the case that our approach to research is clouded by these customary definitions.
When investigating the causes of MND, genetic drivers have been quickly equated with familial ALS and environmental factors with the sporadic disease which emerges without any family history. Professor Al-Chalabi suggested reframing the disease as a multistep process, similar to some types of cancer, so that we can better understand the causes of MND and clearly identify risk factors.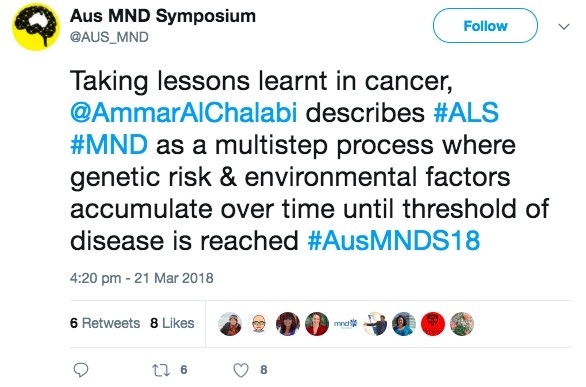 Soon after, Professor Michael Benatar from the University of Miami, spoke about the role of biomarkers in the development of therapies for MND. Biomarkers can be powerful tools for identifying suitable patients for clinical trials testing targeted therapeutics, tracking disease progression or measuring someone's response to therapy – and it's for these reasons that they are of great interest to researchers.
Professor Benatar urged researchers to better define in the early stages of development how biomarkers will be used and design their research questions accordingly so that biomarkers are fit for use in the clinic.
Encouragingly, Flinders University's Dr. Mary-Louise Rogers, presented her work to validate a urinary biomarker called p75ECD, which has since been incorporated into a number of current clinical trials to track disease progression.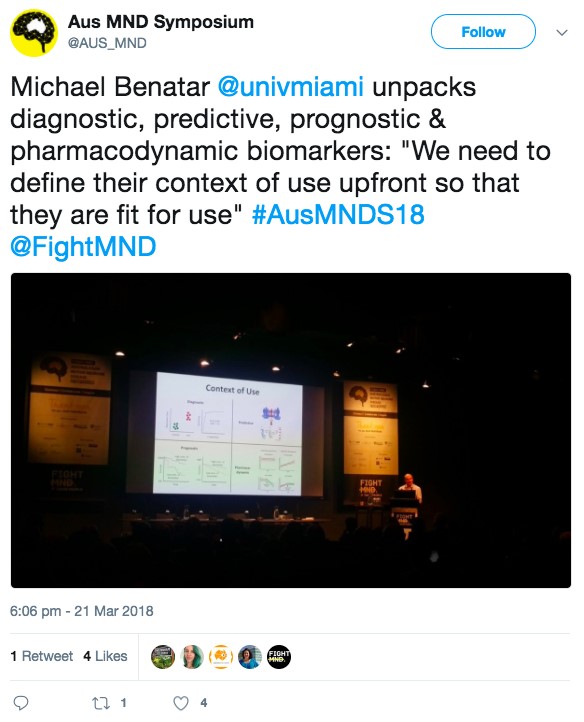 It was also clear that researchers are rethinking their techniques for cell-based research to make sure their findings are relevant to the clinic.
The underlying genetic diversity of MND means that therapies in preclinical development may be beneficial for some but not be so effective for others. Professor Kevin Eggan, Harvard University, shared his idea to scale up experiments with patient-derived stem cells – which were once skin cells and have been reprogrammed into neurons – to create 'a population in a dish' and fast-track drug screening in the lab.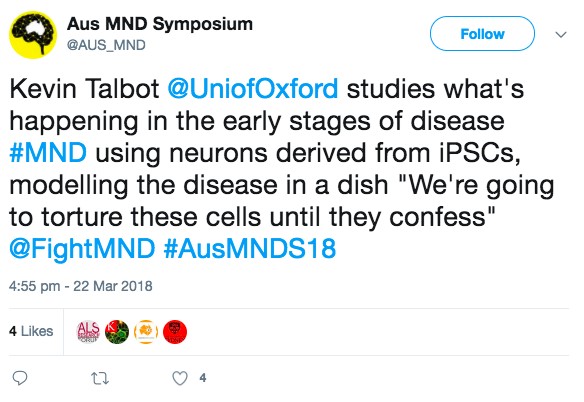 Associate Professor Anthony White, QIMR Berghofer Medical Research Institute, also described his 3D cell model that reflects the complexity of the brain which he has developed to explore the role of different cells in the brain, not just motor neurones, in MND.
Barriers to drug delivery and development were also discussed since many drugs which showed promise in the lab have failed to translate into success in the clinic.
Namely, the blood-brain barrier presents an obstacle to delivering drugs to the central nervous system, the site of disease, in the treatment of MND. There are strategies in development to overcome this, which Dr Fazel Shabanpoor from the Florey Institute, described in the context of spinal muscular atrophy (SMA), a childhood form of MND.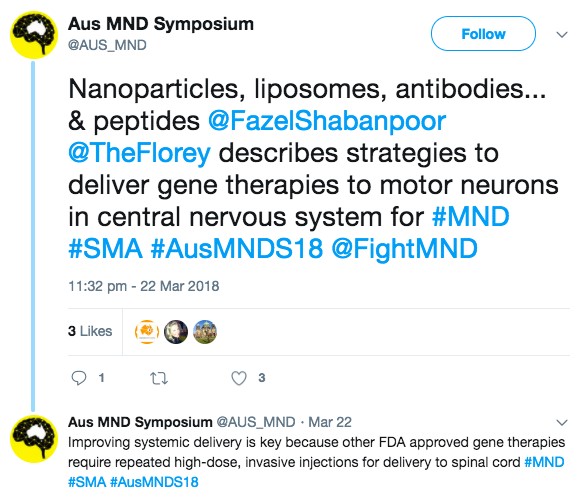 Equally important as research to decode MND is the work of allied health professionals who care for people living with MND. In the clinical stream of the symposium dedicated to their work, occupational therapists, physiotherapists, respiratory specialists and speech pathologists had the opportunity to share their knowledge and expertise as well as evidence-based research.
Occupational therapists help people living with MND navigate an ever-changing level of function. From her work at Calvary Health Care Bethlehem, Sarah Solomon impressed that there is no one recipe of care for MND, instead suggesting different strategies for introducing the options of assistive technologies that are available to patients.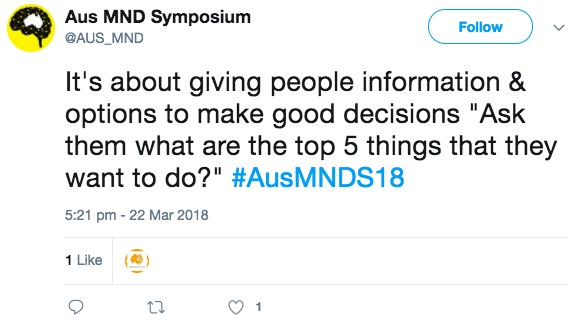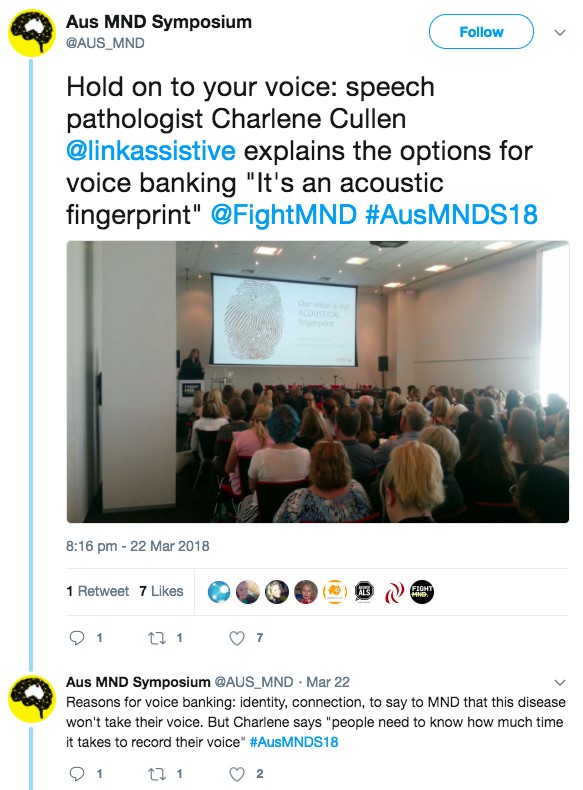 Other presentations covered options for voice banking, the use of eye-gaze technology and multidisciplinary care under the National Disability Insurance Scheme (NDIS).
Importantly, there was great attendance at the conference by young researchers in the field. More than 60 posters were on show during the symposium including presentations from undergraduate and PhD students with the prizes for Best Posters awarded to Maxinne Watchon from the University of Sydney and Ashley Crook from Macquarie University.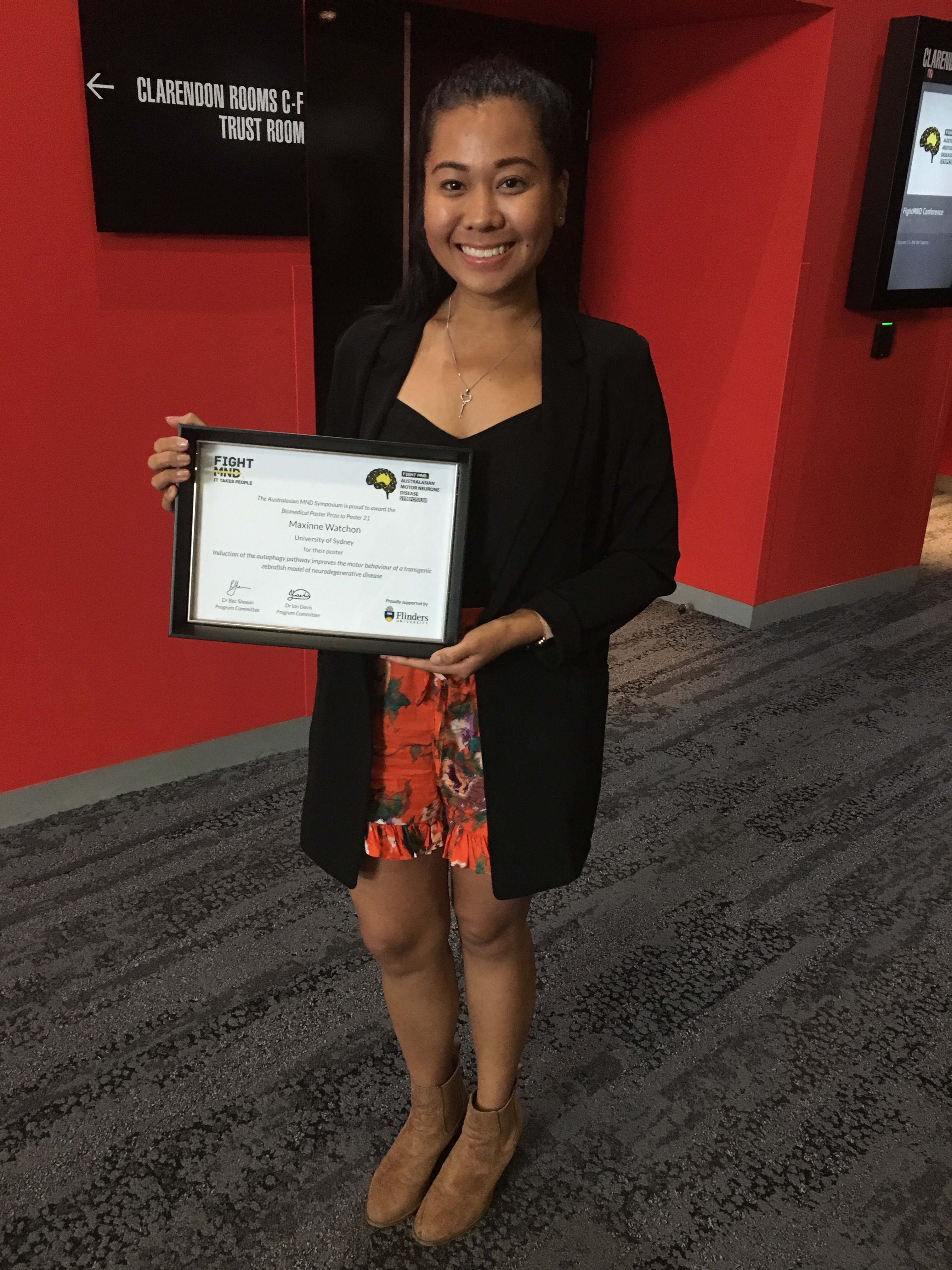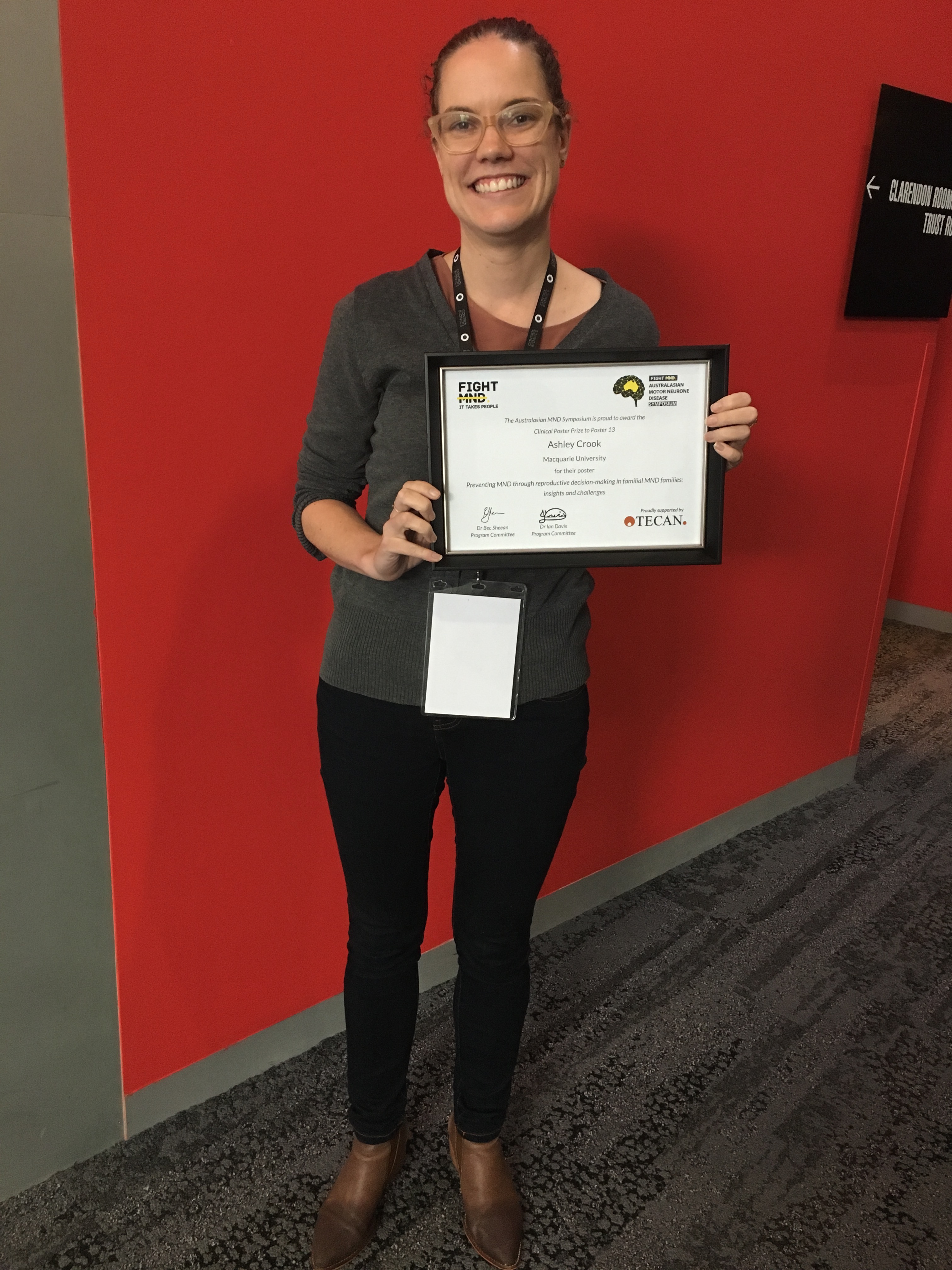 Final year PhD student Emily McCann also presented her work to develop a custom bioinformatics pipeline to identify genetic drivers in families with a history MND who have been seen at the MND Clinic at Macquarie University.
Supporting up-and-coming researchers is an incredibly important part of the task to secure a better future for those living with MND and it was great to see the next generation of researchers present their outstanding work.
We look forward to once again hosting the Australasian MND Symposium in 2020 as we continue to fight MND.
Written by Clare Watson
MND Research team, Illawarra Health and Medical Research Institute, University of Wollongong
Clare Watson is a Research Assistant in the MND Research team at the Illawarra Health and Medical Research Institute at the University of Wollongong. Clare is also a freelance science writer and journalists and a roving reporter for Franklin Women.